Movie Information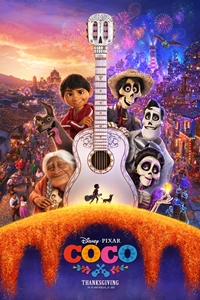 Director: Lee Unkrich, Adrian Molina
Starring: Gael García Bernal, Anthony Gonzalez, Benjamin Bratt, Renée Victor
Website: http://movies.disney.com/coco
Synopsis: Despite his family's baffling generations-old ban on music, Miguel dreams of becoming an accomplished musician like his idol, Ernesto de la Cruz. Desperate to prove his talent, Miguel finds himself in the stunning and colorful Land of the Dead following a mysterious chain of events.
This film opens on 11/22/2017
Check back closer to the release date to purchase advance tickets!