Movie Information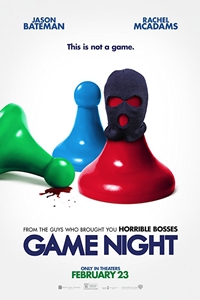 Runtime: 1:40
Director: John Francis Daley, Jonathan Goldst
Starring: Jason Bateman, Rachel McAdams, Billy Magnussen, Sharon Horgan
Website: http://www.gamenight-themovie.net/
Synopsis: Bateman and McAdams star as Max and Annie, whose weekly couples game night gets kicked up a notch when Max's charismatic brother, Brooks (Chandler), arranges a murder mystery party, complete with fake thugs and faux federal agents. So when Brooks gets kidnapped, it's all part of the game - right?
This film opens on 02/23/2018
Check back closer to the release date to purchase advance tickets!