Movie Information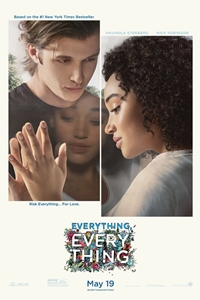 Everything, Everything
| PG-13
Runtime: 1:36
Director: Stella Meghie
Starring: Ana de la Reguera, Taylor Hickson, Nick Robinson, Amandla Stenberg
Website: http://www.warnerbros.com/everything-everything
Synopsis: Maddy is desperate to experience the much more stimulating outside world, and the promise of her first romance. Gazing through windows and talking only through texts, she and Olly form a deep bond that leads them to risk everything to be together - even if it means losing everything.
This film opens on 05/19/2017
Check back closer to the release date to purchase advance tickets!