Movie Information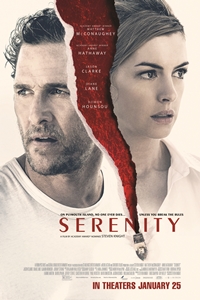 Runtime: 1:46
Director: Steven Knight
Starring: Matthew McConaughey, Anne Hathaway, Jason Clarke, Diane Lane
Website: http://www.SerenityFilm.com
Synopsis: Baker Dill is a fishing boat captain leading tours off a tranquil, tropical enclave called Plymouth Island. His quiet life is shattered, however, when his ex-wife Karen tracks him down with a desperate plea for help.
This film opens on 01/25/2019
Check back closer to the release date to purchase advance tickets!