Movie Information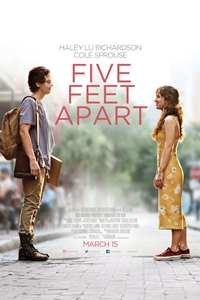 Director: Justin Baldoni
Starring: Haley Lu Richardson, Cole Sprouse, Moises Arias, Kimberly Hébert Gregory
Synopsis: Stella is every bit a seventeen-year-old. But unlike most teenagers, she spends much of her time living in a hospital as a cystic fibrosis patient. Her life is full of routines, boundaries and self-control - all of which is put to the test when she meets a charming fellow CF patient named Will.
This film opens on 03/22/2019
Check back closer to the release date to purchase advance tickets!