Movie Information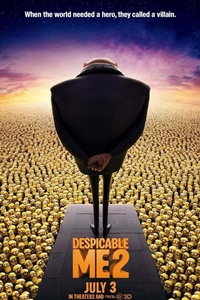 Runtime: 1:38
Director: Chris Renaud, Pierre Coffin
Starring: Steve Carell, Kristen Wiig, Benjamin Bratt, Miranda Cosgrove
Website: http://www.despicableme.com/
Synopsis: In summer 2013, get ready for more Minion madness in Despicable Me 2. Chris Meledandri and his acclaimed filmmaking team create an all-new comedy adventure featuring the return of (former?) super-villain Gru (Steve Carell), his adorable girls, the unpredictably hilarious Minions...and a host of new and outrageously funny characters.
This film opens on 07/03/2013
Check back closer to the release date to purchase advance tickets!