Movie Information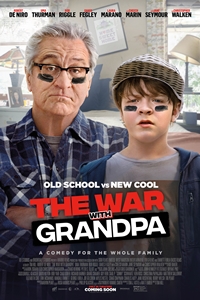 The War with Grandpa
| PG
Runtime: 1:34
Director: Tim Hill
Starring: Robert De Niro, Uma Thurman, Rob Riggle, Oakes Fegley
Synopsis: When Grandpa Jack moves in with the family, Peter is forced to give up his most prized possession: his bedroom. Peter will stop at nothing to get his room back, scheming with friends to devise a series of pranks to drive him out.
This film opens on 10/09/2020
Check back closer to the release date to purchase advance tickets!