Movie Information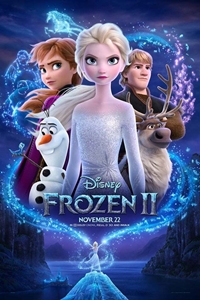 Runtime: 1:44
Director: Chris Buck, Jennifer Lee
Starring: Kristen Bell, Idina Menzel, Sterling K. Brown, Evan Rachel Wood
Synopsis: Why was Elsa born with magical powers? The answer is calling her and threatening her kingdom. Together with Anna, Kristoff, Olaf and Sven, she'll set out on a dangerous but remarkable journey. In Frozen, Elsa feared her powers were too much for the world. In Frozen 2, she must hope they are enough.
This film opens on 11/22/2019
Check back closer to the release date to purchase advance tickets!