Movie Information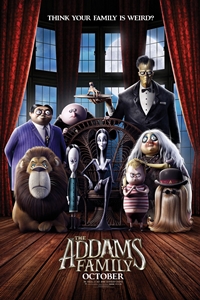 Runtime: 1:45
Director: Conrad Vernon
Starring: Oscar Isaac, Charlize Theron, Allison Janney, Bette Midler
Website: http://AddamsFamily.Movie
Synopsis: Get ready to snap your fingers! The first family of Halloween, the Addams Family, is back on the big screen in the first animated comedy about the kookiest family on the block. Funny, outlandish, and completely iconic, the Addams Family redefines what it means to be a good neighbor.
This film opens on 10/11/2019
Check back closer to the release date to purchase advance tickets!