Movie Information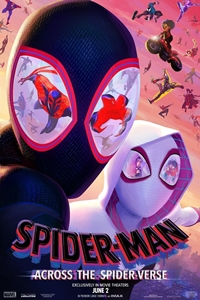 Spider-Man: Across the Spider-Verse
| PG
Runtime: 2:16
Director: Joaquim Dos Santos, Kemp Powers, Ju
Starring: Shameik Moore, Hailee Steinfeld, Jake Johnson, Issa Rae
Synopsis: Miles Morales returns for the next chapter of the Oscar-winning Spider-Verse saga. After reuniting with Gwen Stacy, Brooklyn's full-time, friendly neighborhood Spider-Man is catapulted across the Multiverse, where he encounters a team of Spider-People charged with protecting its very existence. But when the heroes clash on how to handle a new threat, Miles finds himself pitted against the other Spiders and must redefine what it means to be a hero so he can save the people he loves most.
This film opens on 06/02/2023
Check back closer to the release date to purchase advance tickets!