Movie Information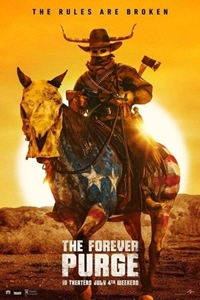 Runtime: 1:43
Director: Everardo Gout
Starring: Ana de la Reguera, Tenoch Huerta, Josh Lucas, Cassidy Freeman
Website: http://www.universalpictures.com/movies/the-forever-purge
Synopsis: Vaulting from the record-shattering success of 2018's The First Purge, Blumhouse's infamous terror franchise hurtles into innovative new territory as members of an underground movement, no longer satisfied with one annual night of anarchy and murder, decide to overtake America through an unending campaign of mayhem and massacre. No one is safe.
This film opens on 07/02/2021
Check back closer to the release date to purchase advance tickets!