Movie Information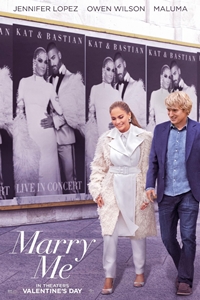 Director: Kat Coiro
Starring: Jennifer Lopez, Owen Wilson, Chloe Coleman, Sarah Silverman
Synopsis: Cargada de canciones originales de los cantantes latinos Jennifer López y Maluma, Cásate Conmigo es protagonizada por López, quien interpreta a la super estrella musical Kat Valdez y Owen Wilson como Charlie Gilbert, un maestro de matemáticas. Dos completos extraños que aceptan casarse y darse la oportunidad de conocerse después. Un romance inusual entre dos personas diferentes que buscan algo real, en un mundo en donde el valor de las cosas depende del número de likes y seguidores. Cásate Conmigo es una historia de amor moderna sobre las celebridades, el matrimonio y las redes sociales.
This film opens on 02/11/2022
Check back closer to the release date to purchase advance tickets!