Movie Information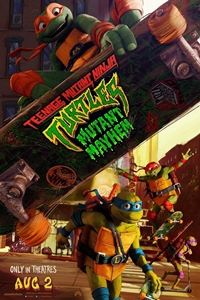 Teenage Mutant Ninja Turtles: Mutant Mayhem
| PG
Runtime: 1:39
Director: Jeff Rowe
Starring: Micah Abbey, Shamon Brown Jr., Hannibal Buress, Rose Byrne
Synopsis: After years of being sheltered from the human world, the Turtle brothers set out to win the hearts of New Yorkers through heroic acts. They take on a mysterious crime syndicate, but soon get in over their heads when an army of mutants is unleashed upon them.
This film opens on 08/02/2023
Check back closer to the release date to purchase advance tickets!