Movie Information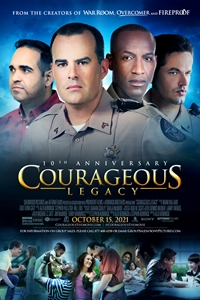 Courageous Legacy
| PG-13
Runtime: 2:10
Director: Alex Kendrick
Starring: Alex Kendrick, Ken Bevel, Robert Amaya, Kevin Downes
Website: http://www.courageousthemovie.com
Synopsis: Four men, one calling: To serve and protect. As law enforcement officers, they are confident and focused. Yet at the end of the day, they face a challenge that none of them are truly prepared to tackle: fatherhood. While they consistently give their best on the job, good enough seems to be all they can muster as dads. When tragedy hits home, they are left wrestling with their hopes, their fears, their faith, and their fathering. Can a newfound urgency help these dads draw closer to God ... and to their children?
This film opens on 09/24/2021
Check back closer to the release date to purchase advance tickets!