Movie Information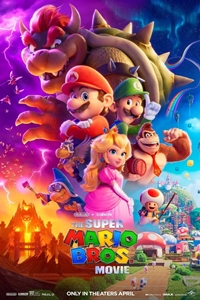 The Super Mario Bros. Movie
| PG
Runtime: 1:32
Director: Aaron Horvath, Michael Jelenic
Starring: Chris Pratt, Anya Taylor-Joy, Jack Black, Seth Rogen
Synopsis: For the first time, the iconic global entertainment brands Illumination and Nintendo join forces to create The Super Mario Bros. Movie, a new, big-screen adventure starring one of pop culture's most prominent plumbers of the past four decades. Based on the world of Nintendo's Mario games, the film invites audiences into a vibrant, thrilling new universe unlike any created before in an action-packed, exuberant cinematic comedy event. While working underground to fix a water main, Brooklyn plumbers Mario and brother Luigi are transported down a mysterious pipe and wander into a magical new world. But when the brothers are separated, Mario embarks on an epic quest to find Luigi. With the assistance of a Mushroom Kingdom resident Toad and some training from the strong-willed ruler of the Mushroom Kingdom, Princess Peach, Mario taps into his own power.
This film opens on 04/05/2023
Check back closer to the release date to purchase advance tickets!