Movie Information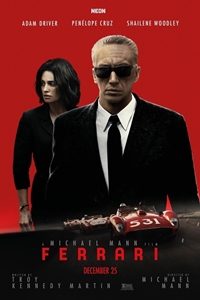 Runtime: 2:11
Director: Michael Mann
Starring: Adam Driver, Penélope Cruz, Shailene Woodley, Sarah Gadon
Synopsis: It is the summer of 1957. Behind the spectacle of Formula 1, ex-racer Enzo Ferrari is in crisis, with bankrupcy threatening his factory and a strained marriage further impacted by the loss of their son a year earlier. Meanwhile, his drivers' passion to win pushes them to the edge as they launch into a treacherous 1,000-mile race across Italy.
This film opens on 12/25/2023
Check back closer to the release date to purchase advance tickets!