Movie Information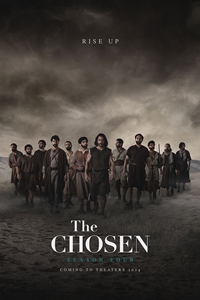 The Chosen: Season 4 Episodes 7-8
Runtime: 2:50
Director: Dallas Jenkins
Starring:
Synopsis: Clashing kingdoms. Rival rulers. The enemies of Jesus close in while His followers struggle to keep up, leaving Him to carry the burden alone. Season 4 promises to deliver where last season's emotional walking on water finale left off.
This film opens on 02/29/2024
Check back closer to the release date to purchase advance tickets!